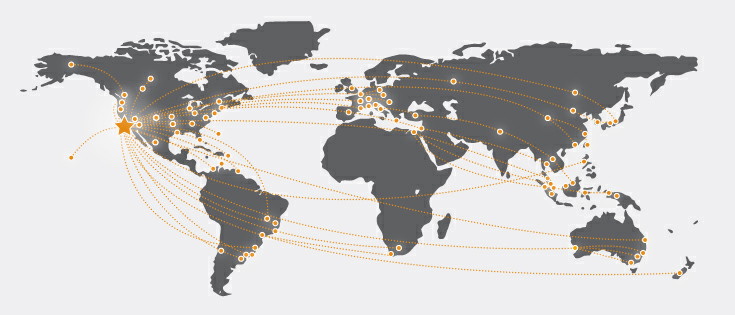 At the Eyelid Surgery Center of Excellence, we have patients travel to us from all around the world. This means we're experts at accommodating and catering to the needs of patients from anywhere on the globe.
Often, our patients from outside Los Angeles choose to stay for a period of time after their surgery to allow for a safe and successful recovery. Others prefer to spend some extra time simply to enjoy the Los Angeles area.
Services for Out-of-Town Patients
Our goal is to make your stay in Los Angeles pleasant and stress free. To do this we offer a variety of services, including:
Help with translation
Assistance finding post-operative recovery centers
Recommendations for travel agents
Advice on sightseeing and tourism
Coordination of medical or travel info
Aid with private nurses
Discounted Hotel and Travel Rates
In addition to all the other services we offer, the Eyelid Surgery Center of Excellence also provides discounted rates at a variety of Beverly Hills and Los Angeles hotels. You can see the full list at the bottom of the page.
Many of our patients fly into the Los Angeles International Airport (LAX), which is a short distance from our surgical center in Beverly Hills. We also recommend CoolRide as a car service to get you to and from the airport and your hotel. You can schedule transportation by calling CoolRide directly at (888) 559-4341, or simply talk to us and we can do it for you.
Frequently Asked Questions
Q: What is the best way to contact the Eyelid Surgery Center of Excellence if I live abroad?
A: Patients coming from outside the United States can either call our regular phone number or reach use via our online contact form. In order to schedule your appointment, we do require your contact information before booking your consultation.
Q: How soon will I be able to fly again after my surgery?
A: This depends on the particulars of your surgery. However, we do recommend you stay in a recovery center such as Pearl Recovery for at least a short period of time after your procedure. This will help ensure your safety and comfort. This recovery time is typically anywhere between one day to a week.
Q: Do you offer assistance in getting the necessary travel documents, such as visas or passports?
A: Yes, we do offer help to our international patients. Our services include access to a travel agent, who can help you with preparing and acquiring all the documents you need to travel.
Q: How do I get to the Eyelid Surgery Center of Excellence?
A: Our facilities are located at La Peer Health Systems on Wilshire Boulevard in Beverly Hills. There are a variety of ways to get there. For patients coming from Los Angeles International Airport or Bob Hope Airport in Burbank, the surgical center is only a short taxi ride away. Patients traveling from Bakersfield, Irvine, Newport Beach, Laguna Beach, or other cities within California may choose to take the Amtrak train. Please see our outpatient surgical center map for more details.
Contact the Eyelid Surgery Center of Excellence
Due to the high demand from international patients, our staff at the Eyelid Surgery Center of excellence is highly skilled at accommodating out-of-town visitors. We make sure that each of our patients receives the highest quality of care. If you are traveling from abroad or just outside of Los Angeles, then this is the surgery center for you.
For additional info on medical tourism and travel to Los Angeles for your surgery, please contact our staff. Simply fill out the online contact form or call us at the office.
We will also work with you to verify your insurance coverage so you know exactly how your benefits will work with the Eyelid Surgery Center of Excellence.
Next, read about our humanitarian causes.
---
The Montage Beverly Hills
310.860.7800
225 N Canon Dr. Beverly Hills, CA 90210
Average nightly rate: $475 & up
www.MontageBeverlyHills.com
Crowne Plaza
310.553.6561
1150 S Beverly Dr.
Los Angeles, CA 90035
Average nightly rate: $209 & up
www.MyBeverlyHillsHotel.com
Avalon Hotel Beverly Hills
310.277.5221
9400 W Olympic Blvd.
Beverly Hills, CA 90212
www.ViceroyHotelGroup.com/Avalon
Four Seasons of Beverly Hills
310.273.2222
300 S Doheny Dr.
Los Angeles, CA 90048
Average nightly rate: $475 & up
www.FourSeasons.com/LosAngeles
Luxe Rodeo Drive Hotel
310.273.0300
360 N Rodeo Dr.
Beverly Hills, CA 90210
www.LuxeHotels.com/RodeoDrive
L'Ermitage Beverly Hills
310.278.3344
9291 Burton Way
Beverly Hills, CA 90210
www.ViceroyHotelsandResorts.com/BeverlyHills
Beverly Hills Hotel
310.276.2251
9641 Sunset Blvd.
Beverly Hills, CA 90210
www.BeverlyHillsHotel.com
The Beverly Hilton
310.274.7777
9876 Wilshire Blvd.
Beverly Hills, CA 90210
Average nightly rate: $295 & up
www.BeverlyHilton.com
The Peninsula Beverly Hills
310.551.2888
9882 S Santa Monica Blvd.
Beverly Hills, CA 90212
www.Peninsula.com/Beverly_Hills
Hyatt Regency Century Plaza
310.228.1234
2025 Avenue of the Stars
Los Angeles, CA 90067
Average nightly rate: $279 & up
www.CenturyPlaza.Hyatt.com
Beverly Hills Plaza Hotel
310.275.5575
10300 Wilshire Blvd.
Los Angeles, CA 90024
Average nightly rate: $355 & up
www.BeverlyHillsPlazaHotel.com
Mosaic Hotel Beverly Hills
310.278.0303
125 Spalding Dr.
Beverly Hills, CA 90212
www.MosaicHotel.com
Le Parc Suite Hotel
310.855.8888
733 NW Knoll Dr.
West Hollywood, CA 90069
Average nightly rate: $239 & up
www.LeParcSuites.com
Thompson Hotel
310.273.1400
9360 Wilshire Blvd
Beverly Hills, CA 90212
Average nightly rate: $219 – $$359
www.ThompsonHotels.com